Download Safety Data Sheets PDF's
Download Processing Information PDF's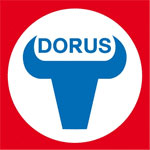 Sinks Care & Maintenance
STAINLESS STEEL SINKS
Your new sink is made of premium stainless steel and has a nominal thickness of 16 or 18 gauge, depending on the line of sink
you have. Stainless steel alloy is composed of both chromium and nickel. The presence of chromium enables the steel to form an
invisible layer of oxide that protects it against corrosion. The addition of nickel to the alloy increases its corrosion resistance while
adding a bright polished appearance, hardness, and exceptional resistance to all temperatures. The extra thickness of the steel in
our sinks will resist normal abuse; however we do recommend the use of our strainer-grids to protect against accidental damage.
We suggest you clean the sinks as you would a stainless steel pot- use a mild detergent with a sponge, rinse and dry off. From
time to time, you may also polish it to restore it to its original beauty and shine using 'Nevr-Dull" (purchased at online or retail
stores) or any polishing cream for stainless steel.
QUARTZ COMPOSITE SINKS
• Care and use – Avoid placing pots or hot objects in excess of 536°F into the sink. Avoid causing excessive thermal shock due to
the presence of very hot and very cold objects on the sink at the same time. Avoid causing thermal shock due to the presence of
very hot and very cold objects in the sink at the same time.
• Clean your quartz sink regularly using a non-abrasive sponge and dishwashing soap. Rinse and dry completely with a clean, soft
cloth.
• Scuffs and stains – Use a magic eraser sponge to remove light scuffs, stains, and metallic marks. On stubborn areas use a soft
scouring pad and mild abrasive cleaner (Soft Scrub® or Bar Keeper's Friend®). Clean, rinse and dry sink completely then apply
olive oil to the sink surface.
• Surface deposits – To remove hard water, calcium or lime use Lime Away® or CLR® cleaner. Alternatively use white vinegar on a
paper towel and rinse after 20 minutes,
• Surface luster – To restore luster and extend the time between cleanings apply a thin, even coating of Quartz Sink Conditioner, foodsafe
mineral oil, or olive oil to the entire sink surface with a cloth. Remove excess with a cloth or leave overnight. Reapply as needed.
SERENITY CERAMIC SINKS
Clean the sink using water and a mild detergent with a sponge, rinse and dry off. Do not use harsh chemicals inside the sink; if
you would not put it on your hands don't put it in the sink. (Avoid bleach, acids, thinners, etc.) Be advised that some foods contain
acids, such as lemons. If these foods contact the sink, rinse off and dry it clean ASAP. Never lay rusted objects or objects prone
to rusting inside the sink; although the sink itself is incapable of rusting it will stain if a rusted foreign object is laid in it. Do not
put tea bags or coffee inside the sink. If you do, rinse and dry immediately. Sodas can stain the sink if not rinsed out immediately.
These sinks do not resist abuse very well. Handle pots and pans with care.
GEMSTONE SOLID SURFACE COLLECTION SINKS
Do not place hot pans directly from the burner or the oven into the Gemstone sink. Even though Gemstone sinks can withstand
sustained temperatures up to 225°F, prolonged or extreme heat could cause yellowing and/ or cracking. To prevent cracking due
to extreme temperature differences, frozen foods should be placed on a mat or rack – do not place items directly on the surface of
the sink to thaw. Do not use your sink for cutting or chopping items. Although minor cuts and scratches can be repaired, deep cuts
will require the services of a professional.
Gemstone sinks and bowls are non-porous so they can be easily wiped clean with a damp cloth or sponge and mild detergents or
general purpose cleaners. If you have a factory matte finish, abrasive cleaners may also be used. Periodically, it may also be helpful
to go over the entire surface with an abrasive cleaner or a wet Scotch-Brite pad to maintain a uniform appearance.
Spills & Stains: While most everyday spills can be removed with the cleaning techniques mentioned, some troublesome spills
and stains such as food/hair dye, tea, and fruit drinks may require more aggressive cleaning. These items can be removed with
a solution of 50/50 bleach and water allowed to sit for 15 minutes, drained, and flushed with water. Follow with a general cleaner
and flush with water. On factory matte finish, if you prefer, you can scrub with an abrasive cleaner.
Sinks Dimensional Drawings