 Description
Wood Edgebanding
Leading The Industry In Veneer Micro Joint Techology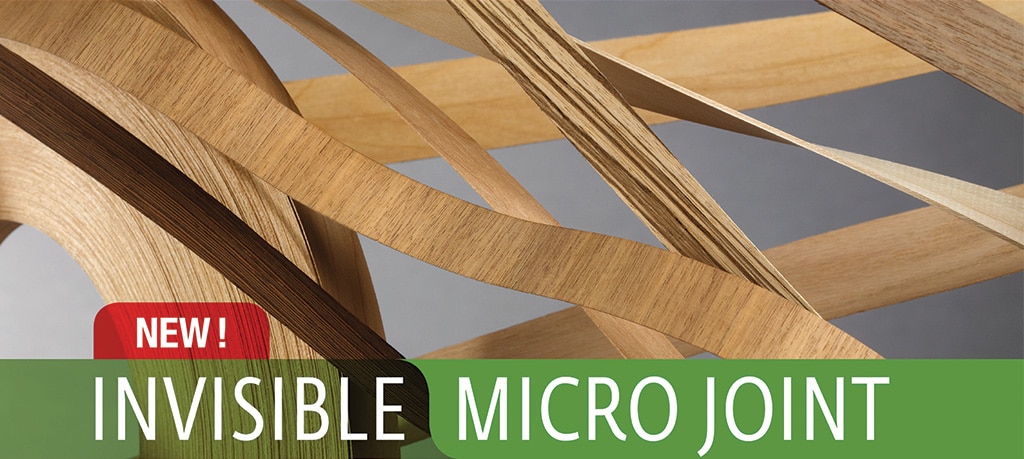 State-of-the-art equipment and technology combined with raw veneer resource management produces a range of veneer products unmatched in the industry.
The use of coiled veneer products has become an integral component of real wood edge treatments within the industry. The manufacturing advantages and the economies derived from the use of coiled veneer offer substantial benefits, including simplified inventory control, minimized waste, and the maximum utilization of valuable natural resources. Now, ESI is pleased to offer the breakthrough Micro Joint Technology.

• North American Production on Thin and Thick Veneers
• Green Guard Certified
• Short Production Leadtimes
• Thin master rolls stocked for quick slitting to any desired width
Thin Fleece-backed Edgebanding
The 'original' backed automatic coiled veneer edging features a specially saturated fleece membrane laminated in a continuous process to carefully selected veneers. The expertly matched finger joints and fine sanding provide a cost effective and beautiful real wood edge treatment. Specialized processing for softform applications, featuring precision sanding and options such as fixed length increments in coils with magnetic sensing tape are also offered. A special 'Type 1′ moisture resistant fleece lamination is also available by custom order. For an upgrade, Kraft Paper Backed Veneer in automatic continuous coils is available.
Fleece Edge Preglued Veneer Coils
This product is suitable for straight-line and simple contour/radius applications. Preglued veneer edgebanding is available with either pre applied hot melt or pressure sensitive adhesives in a wide range of sizes and species.
Stocking Program
Alder, Anigre, Ash, ,White Birch, Birch Red, Birch Natural, Beach Steamed, Cherry, Fir VG, Hickory, Lyptus, Mahogany African, Mahogany Royal (Honduran), Maple, Pecan Pine, Red Oak, Oak White, Teak, Walnut.
Thick Wood Edgebanding Rolls
ESI offers a complete line of coiled Thick Veneer edgebanding products.Thick veneer coils are laminated real wood veneer, finger jointed into coils utilizing the latest in grain match and jointing technologies. They are laminated using specially formulated PVA adhesives. Thick veneer coils are gaining increasing popularity in office, residential and institutional casegoods applications where a radiused edge is desired but high throughput volume is required.
Thick automatic veneer coils offer many advantages and efficiencies over strip products. Coils provide high machine throughput, minimize waste and reduce edgebanding inventory requirements. They also provide wood edgings that are consistent in thickness and width and will not warp or twist. Thick veneer coiled edgings are available in thicknesses ranging from 1.1mm to 4.6mm.
No Formaldehyde, all Wood Construction
Thick automatic veneer coils are laminated utilizing a specially formulated PVA adhesive, which contains no formaldehyde and provides improved flexibility and reduced coil memory. Only real wood veneer faces and innerplies are used, no reconstituted veneers that can cause brittleness and chip out on application. Utilizing real wood veneers also eliminates any 'picture framing' caused by mismatched innerplies. This construction also provides excellent machinability.
• Very flexible product due to the use of PVA between various layers
• Machines capable of processing 3mm thick PVC rolls will also be able to process 3mm thick wood edging
• A wide variety of species are available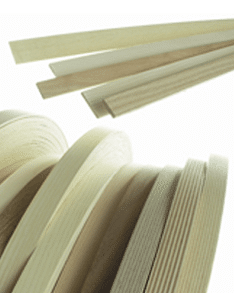 Specifications
Rolls in lengths of 328′
Thickness: 1mm, 1.5mm & 3mm
4mm & 6mm 8 foot veneer strips available through custom order
Width: 5/8″ – 2 1/2″