Choosing the Right Sink for Your Kitchen: A Comprehensive Guide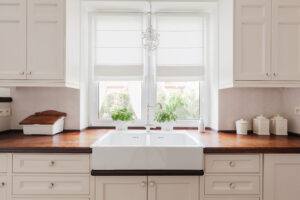 The sink is essential in every kitchen, serving as one of the most frequently utilized features. It is where you wash your hands, rinse your fruits and vegetables, and clean your dishes. Therefore, choosing the right sink for your kitchen is a critical decision that can significantly affect your kitchen's daily flow and overall functionality. In this comprehensive guide, we'll explore different sink styles, materials, sizes, configurations, and additional features to help you choose the perfect sink for your kitchen.
Sink Styles and Materials
Several sink styles include top-mount, undermount, farmhouse, and bar sinks. Top-mount sinks are installed above the countertop, with a rim on top. Undermount sinks are installed underneath the countertop, creating a seamless look. Farmhouse sinks, commonly referred to as apron-front sinks, feature a deep basin extending beyond the countertop's front edge, creating a distinctive and charming look. Finally, bar sinks are smaller and designed for wet bar or secondary kitchen use.
The material of the sink of the sink is also an important consideration. Stainless steel is the most popular choice due to its durability, affordability, and easy maintenance. Porcelain sinks are a classic option that adds a touch of elegance to your kitchen, but they can be prone to chipping and cracking. Granite, fireclay, and cast iron sinks are popular options, each with advantages and disadvantages.
Size and Configuration
The size and configuration of the sink are important considerations, as they can impact the functionality of your kitchen. For example, consider a smaller sink to save on counter space if you have a small kitchen. On the other hand, if you have a large family or do a lot of cooking, consider a larger sink with a double or triple basin to accommodate all your needs.
The configuration of the sink is also important. Some sinks come with a single basin, while others have double or triple basins. In addition, some sinks have a built-in drainboard, while others have a separate drainboard that can be installed on the countertop.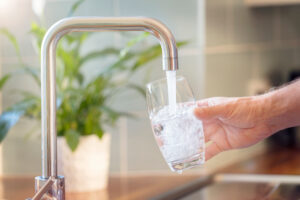 Sink Features and Accessories
Many sinks come with additional features and accessories to make your life easier. These can include built-in cutting boards, colanders, and drain racks. Some sinks even come with a built-in water filtration system, which can be a great option if you're concerned about tap water quality.
Bottom Line
Selecting the perfect sink for your kitchen is a crucial decision, as it can significantly impact the overall functionality and aesthetic appeal of your space. By considering the style, material, size, configuration, and additional features and accessories, you can find the perfect sink for your kitchen. Take your time and do your research, as investing in a high-quality sink can make your daily routine easier and more efficient.